Exek at PORT164 | Suite C3-D
Executive Office Space For Lease w/ Restrooms
Experience The Exek at PORT164: A Stylish 10' x 12' Furnished Office in the Heart of NW OKC's Thriving Business Hub.
Rent displayed is Year-1 Rate without any applicable buildout adjustments. Annual rent escalations may apply. CAM rates advertised are current but subject to annual adjustment.
Total Estimated Monthly Expenses
Non-refundable Cleaning & Repair Deposit
Month 1 Rent (Pro-rated if lease doesn't begin on the 1st)
Total Estimated Move-in Expenses
** Utility activation fees also apply. Fees will vary by applicant's credit and history with the respective provider.
X marks the spot.

Welcome to The Exek at PORT164, where your workspace experience goes beyond just a location; it's an opportunity to thrive. Situated in the heart of the thriving NW OKC growth area, where Edmond, OKC, Deer Creek, and Piedmont converge, our location offers unmatched accessibility and connectivity.

Fresh features

Formerly known as "The Exec," we've only changed one letter in the name but gave the brand and the concept a complete makeover. These thoughtfully designed individual offices feature commercial glass doors and dedicated internet ports, catering to your flexible needs. This surprisingly comfortable take on modern industrial, diamond-polished concrete floors, textured white walls, tastefully positioned LED fixtures, and a flood of natural light at both ends of the space creates a welcoming atmosphere. It's worth noting that lease durations can be as short as 12 months, providing flexibility.

All the amenities...

Our spacious conference room, bathed in natural light from the expansive glass wall, sets the stage for successful presentations and collaborative meetings. Beyond your private office, enjoy access to inviting common areas, including several seating spaces perfect for breakout meetings or a change of scenery during your daily work. A centrally located kitchenette, including a sink, disposal, microwave, and storage cabinets, ensures convenience as you take breaks or prepare a quick snack. Dedicated restrooms complete the offerings.

Your clean getaway from home

Cleanliness and convenience are paramount. Common areas receive bi-weekly cleaning, while individual office upkeep is in your hands. Dispose of trash conveniently in the development dumpster.

Parking

Limited parking is available immediately in front of the space, offering convenient access. In case it fills up, there's additional parking just a short walk away in the common area, serving the greater development.

Evolving with your business

We also understand that businesses evolve, and so should your workspace. That's why we offer flexible leasing options, starting at least 12 months. Our generous upgrade program ensures that as your business grows, your workspace can expand with it.

Signs of the times

Visibility is key in the business world, and we understand that. Each tenant at The Exek enjoys prominent billing on our front door directory, a listing on the PORT164.com tenant directory, and visibility on digital signage within The Exek. To add a personal touch, we provide a door placard with your name, making your presence known.

We're not the only ones who deliver

In today's business world, managing mail can be a hassle. At The Exek, we've simplified it for you. We offer streamlined mail management with a centralized development mailbox. Major carriers like UPS, FedEx, USPS, DHL, and Amazon regularly serve our location, ensuring your packages and mail are always within reach.

The future's so bright...

The future looks promising at The Exek. Just as we hope your business grows, ours is flourishing, too. We have exciting plans for a dedicated floor in a new building across the parking lot. This expansion reflects our commitment to providing even more innovative workspace solutions. Don't worry, tenants will transition smoothly, prioritizing your convenience.

One lease, multiple locations

In addition to all these amenities, leasing at The Exek at PORT164 also gets you access to the conference room at The Exek at Main Street, located on N. Pennsylvania Ave, should you find it more suitable to meet a client a little closer to them. Imagine the freedom to lease a private office for as little as 12 months, with the option to upgrade as your business expands. At The Exek, we're dedicated to providing you with a workspace experience that's practical and inspiring.
Lighting Types
LED, Decorative
Flooring Types
Polished Concrete
Ceiling Types
Open Steel Truss, Sheetrock
Wall Types
Textured Sheetrock, Concrete, Glass
SPACE LOCATION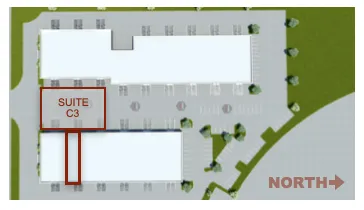 SIGNAGE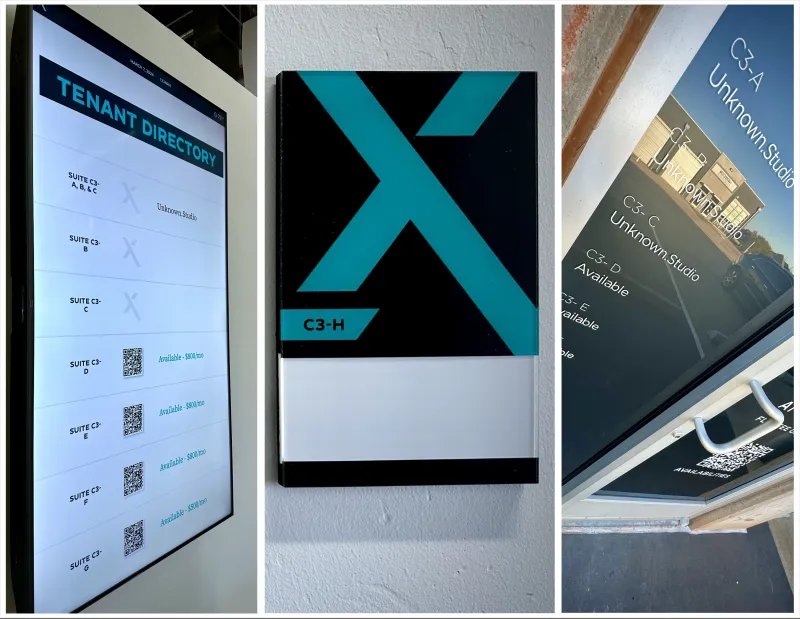 Signage includes a listing in white vinyl on the front door side window, a featured listing in The EXEK's digital signage in the reception area, and a nameplate at the door to your suite. Each tenant also gets an online tenant profile listing at PORT164.com.
PARKING
Limited parking is available immediately in front of the space, offering convenient access. In case it fills up, there's additional parking just a short walk away in the common area, serving the greater development.
Can't find the space you're looking for?
Get notified by text or email when spaces become available!
Subscribe now