The Alley | 3825 NW 166 | Row B | B15+B17 Combined
Warehouse Space For Lease w/ 3 Offices, Loft, 4 Restrooms
Merging two 5,000 sq ft units, this option offers four ADA restrooms (two with showers), eight garage doors, eight storefront entries, three offices, and a loft. Ideal for retail, manufacturing, athletic training, or creative ventures.
flex / office suite / warehouse / showroom
*Year 1 Rate of $10,040/mo is a special discounted rate. Years 2-5 return to market rate of $12,660/mo.
*Year 1 Rate of $10,040/mo is a special discounted rate. Years 2-5 return to market rate of $12,660/mo.
Fixed for three years, and includes renewal options.
SUITE
SIZE
RATE/MO
USE
STATUS
VIEW
The Alley | 3825 NW 166 | Row B | B15
5,000 SF
$5,850
flex / office suite / warehouse / showroom
Available
The Alley | 3825 NW 166 | Row B | B17
5,476 SF
$7,075
flex / warehouse / showroom
Available 2.10.24
Water | Shared | 6 Bathrooms @ $30ea.
Electric | Historic Average OG&E Bill
Natural Gas | Historic Average ONG Bill
Total Estimated Monthly Expenses
Non-refundable Cleaning & Repair Deposit
Month 1 Rent (Pro-rated if lease doesn't begin on the 1st)
Total Estimated Move-in Expenses
** Utility activation fees also apply. Fees will vary by applicant's credit and history with the respective provider.
Introducing an extraordinary combined option at The Alley – a remarkable 10,000 square foot space that seamlessly merges two 5,000 square foot units, providing a harmonious blend of features for your business ventures.

Eight 12'w x 14'h steel garage doors and eight commercial storefront entries make loading, unloading, and customer access effortless, streamlining your operations. The northern end of the space features two 12'x12' windows, bathing the interior with natural light and creating an inviting ambiance.

Step inside this expansive warehouse and be captivated by the array of exceptional features it offers. The space is currently divided in half by a full-height demising wall, which can be thoughtfully modified to create openings between the areas, allowing for seamless flow and adaptation to suit your specific needs.

Additionally, the combined space includes four ADA-compliant restrooms, two of which have ADA-compliant showers, ensuring convenience and accessibility for all.

The unit currently includes two small offices and one larger office or dressing room, designed with functionality in mind. The larger room connects to two of the four restrooms, and both have showers with ADA-compliant features, catering to the needs of your team and clients alike. A 476-square-foot loft above offers a panoramic view of the northern half of the unit, providing a unique and inspiring vantage point.

The space's versatility is further enhanced by the option for additional buildout, allowing you to tailor the unit to your specific requirements. Whether for retail, warehousing inventory, manufacturing, creative studio, or any other purpose, this space offers the canvas for your vision. Previous uses of these spaces include a clothing boutique, a bottling company, and a CrossFit box.

Up to 8 electrical services, totaling 800 AMPS of 3-phase power, provide the necessary electrical capacity to accommodate a diverse range of equipment and machinery. The north 5,000 square feet has an industrial gas heater, assisting in the colder months. The south 5,000 square feet boasts a rooftop HVAC unit, providing supplemental heating and cooling capabilities.

Moreover, the ample parking ensures easy access for your customers and employees, while the highest ceiling clearance in the area accommodates even large-scale operations with ease.

Take advantage of the immediate availability and secure this well-equipped warehouse that will elevate your business to new heights.

Join the thriving community of businesses at The Alley at PORT164 and experience the benefits of this remarkable space. Don't miss this incredible opportunity – contact us now to make this exceptional space yours!

Use
flex, office suite, warehouse, showroom
Lighting Types
LED, Skylight
HVAC
HVAC Type:
Rooftop Unit, Supplemental Heat
Flooring Types
Concrete, Vinyl
Ceiling Types
Open Steel Truss, Sheetrock
Wall Types
Bedded Sheetrock, Concrete, Glass, Panelling
SPACE LOCATION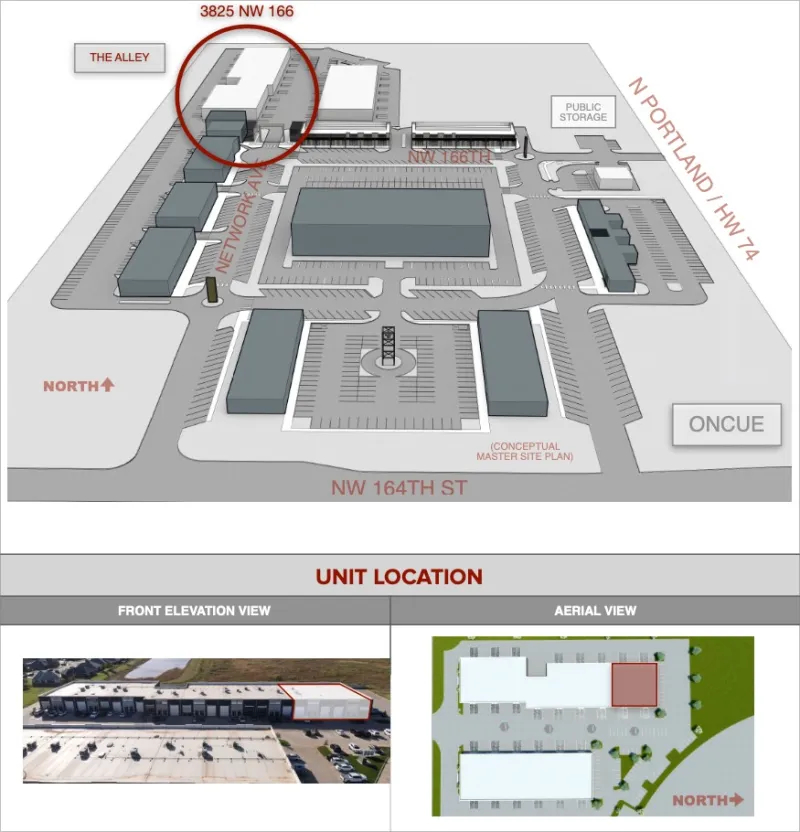 SIGNAGE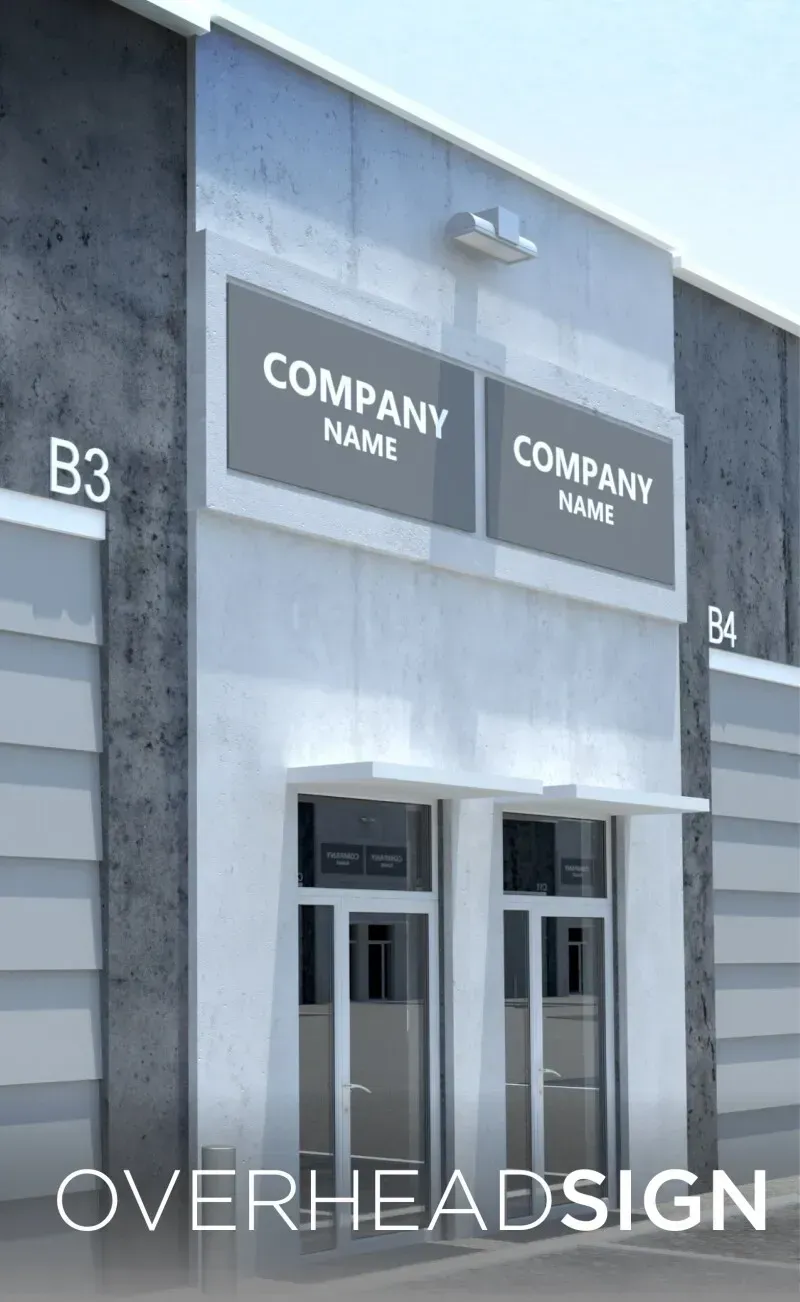 Overhead signage is available over the commercial glass door for each respective bay. Single-bay suites will consist of 1/2 of the space provided in the concrete outset, with the other 1/2 shared by the neighboring tenant. In cases when one tenant occupies both spaces with a common signage location, signage shall consist of one larger, contiguous sign.
PARKING
Each suite includes one colored concrete individual parking spaces directly in front of each suite. Each suite also includes parking opportunities directly in front of the garage door. Overflow parking is available on the north end of the development.
Can't find the space you're looking for?
Get notified by text or email when spaces become available!
Subscribe now