3809 NW 166 | Suite 3
Retail Space For Lease w/ Kitchenette, 2 Restrooms
Rent displayed is Year-1 Rate without any applicable buildout adjustments. Annual rent escalations may apply. CAM rates advertised are current but subject to annual adjustment.
Total Estimated Monthly Expenses
Month 1 Rent (Pro-rated if lease doesn't begin on the 1st)
Total Estimated Move-in Expenses
** Utility activation fees also apply. Fees will vary by applicant's credit and history with the respective provider.
This suite is 1,475 SF and is 25' wide x 59' deep. This suite's included build-out is comprised two (2) ADA-compliant private restrooms, including a sink, toilet and mirror, and a break area. The break area features a large kitchenette which includes cabinetry, a sink, disposal, hot water tank & a space for a tenant-supplied full-size refrigerator.

The suite features large, energy efficient commercial glass storefront entry wall with glass door, finished walls (including sheetrock, texture & paint), diamond polished concrete floors, exposed metal ceilings, LED lighting, commercial-grade steel door, and a dedicated HVAC system.

Our build out package includes all amenities and finishes described above. Additional build-out or design modifications are considered on a case-by-case basis and are at the tenant's expense.
Space Zoning
Personal Services: General
SPACE LOCATION

SIGNAGE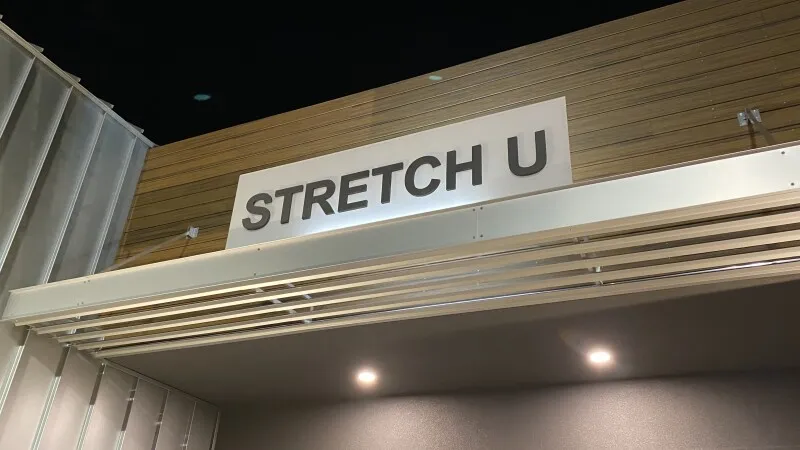 Tenant signage is provided by the developer at the tenant's expense, which includes a modern-styled, back-lit lucite panel sign with your business name on it mounted to the beam over your front door, directory signage listing your business at the end of the building, and front door decal. You will also have your own business profile on our property website, complete with logo, business description, contact information, and photos.
PARKING
Tenant & employee parking is available behind the building, with patron parking provided immediately in front of the building and in the overflow parking lot located just across the street. Though dedicated parking spaces are not reserved exclusively for your business, the development exceeds minimum parking requirements.
Can't find the space you're looking for?
Get notified by text or email when spaces become available!
Subscribe now